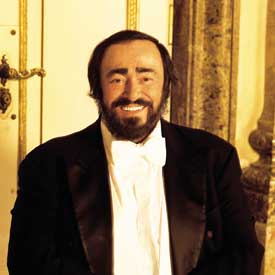 Primo Tenore assoluto

alas, he is dead

but his legacy lives on,

forever

He was One of the 3 tenors. And it was in the  3 tenors concerts that I saw him live in 1996 Gothenburg and Munich.
But he was so much more. The King of high C's, the cross-over artist. His early years as a tenor was pure opera. And he was celebrated among opera lovers. When his opera career had taken flight, he started to do cross-over album. His tenor voice to pop music. And he was loved by more than just the opera crowd. In 1990 the 3 tenors phenomen started. More people was drawn to opera because of these concerts. Then there were his charities concert.

For many the word TENOR means Pavarotti. And he was the truly world famous TENOR as no other classical musician was, other than earlier Enrico Caruso and Maria Callas.

Luciano Pavarotti had a glorious voice, but he also had health problems. Problems that robbed him of the physical mobility an opera role onstage would demand.

People will always talk of his wonderful voice, his collegues tallk of a wonderful collegue and artist.

OperaDuets Travel

1996-07-26
The 3 tenors, Ullevi Stadium Gothenburg